When Krusteaz offered to send me their amazing products, I was so excited, I think I may have squealed just a little bit!  I've been a Krusteaz fan since as far back as I can remember, and now I get the chance to create as many tasty Krusteaz treats as I want?!  Someone pinch me!
The first unique and amazing recipe that I wanted to try was this Pancake Bread!  This recipe came to me not a moment too soon, because it was "breakfast for dinner night" at out house!  Do you ever have one of those nights, where you just want Breakfast for um..dinner??!  If not, you should really give it a try, its almost better than breakfast for breakfast..in the morning!  You can get super creative and add a savory spin to just about any of your mundane morning meals.  But this Pancake Bread did the job, and made the dinner deliciously delightful!
Each thick slice of this bread is like a warm, moist, tender slab of Pancake..if you can imagine that!!  I even had fun with it and layered them up, topping each slice with a generous smear of 'maple syrup cinnamon butter' and sticky cascades of err..syrup!  Welll..it is Pancakes after all..lol!  🙂
You can NOT mess this recipe up~ There's no yeast, no kneading, no waiting for it to rise, or hoping it doesn't fall.  None of the typical bread making stresses, and the best part you ask??  …you're left with thick, unique totally Pancakey slices of bread that are just waiting to be slathered in Maple Syrup Cinnamon BUTTER~   that's right!
~Now do you see where we're going?  THIS IS THE BEST breakfast for dinner bread ever!  A fluffy omelet, some sausage and you're in business!
Good night to us!  And, I say "US"..because one of YOU have a chance to win THIS prize pack of  "Breakfast For Dinner" KRUSTEAZ Pancake and Belgium Waffle products!
Then you can make this pancake bread and TONS of other pancake things too!  Maybe even enjoy your very own "Breakfast for dinner" creation!
**See the bottom of the post for simple instructions on how to enter the contest**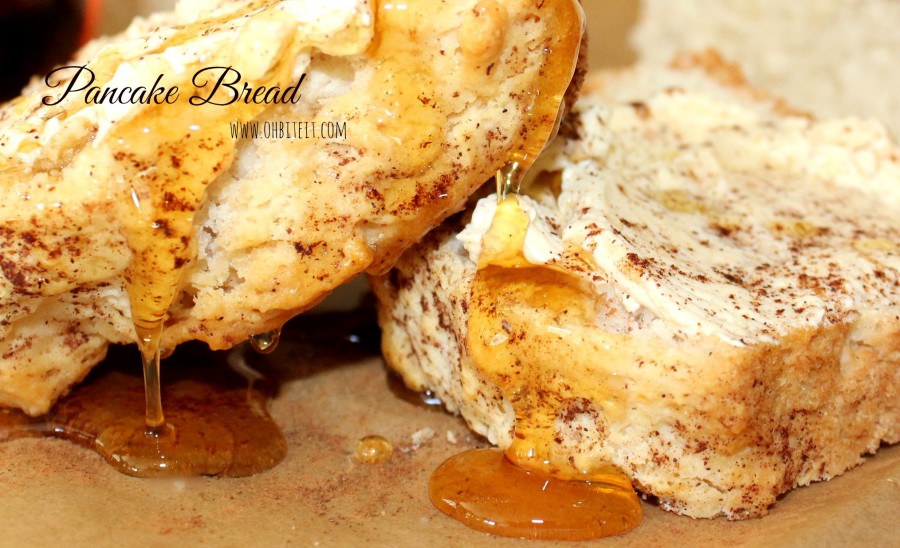 What you'll need: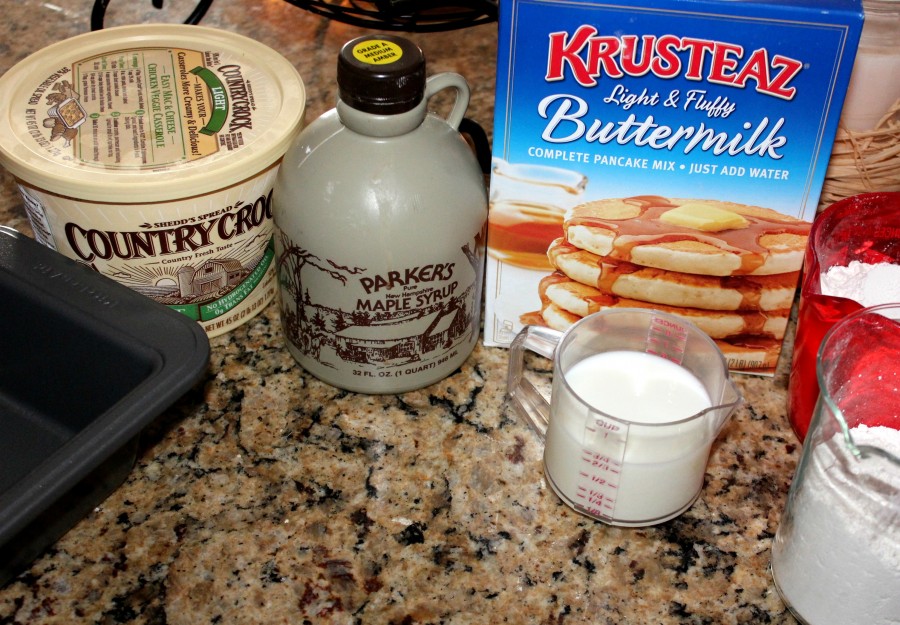 1 cup of dry Krusteaz pancake mix
1 cup self rising flour
1 cup water OR milk
1 tsp. butter..melted
syrup, cinnamon for topping.
A small bread loaf pan.
Directions:
In a medium bowl combine the pancake mix, flour and liquid..mix well into a dough..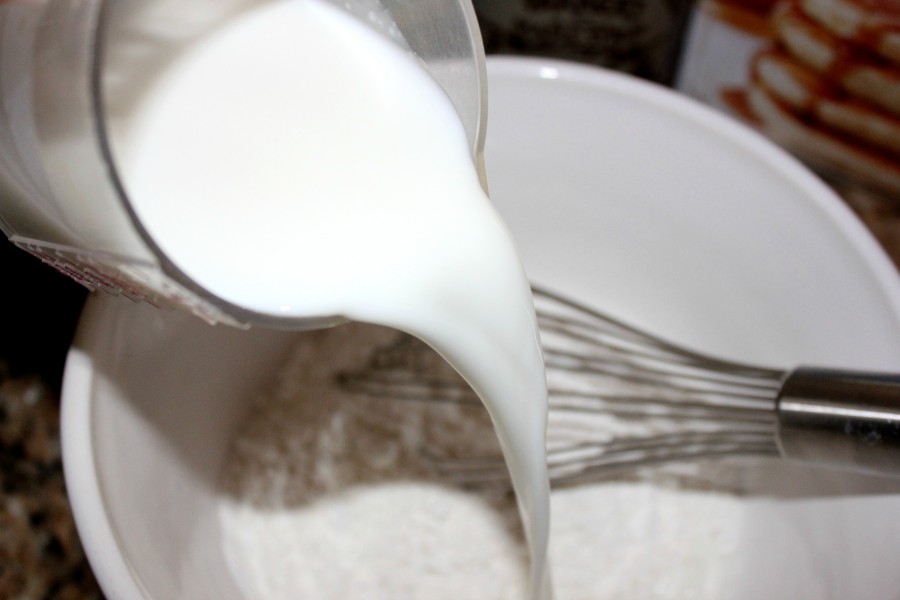 Place the dough into a non-stick sprayed SMALL bread loaf pan.  If you use a large pan, it won't rise as much!
Brush the top with the melted butter…
And a sprinkle of cinnamon…
Bake it at 350 degrees, for approx. 30-40 minutes, or until the center is fully cooked when tested with a toothpick.
Let it cool before flipping it out…
While it's cooling, mix up the Maple Syrup Cinnamon Butter…2 tbsp. Butter, a splash of syrup and a dash of cinnamon..that's it!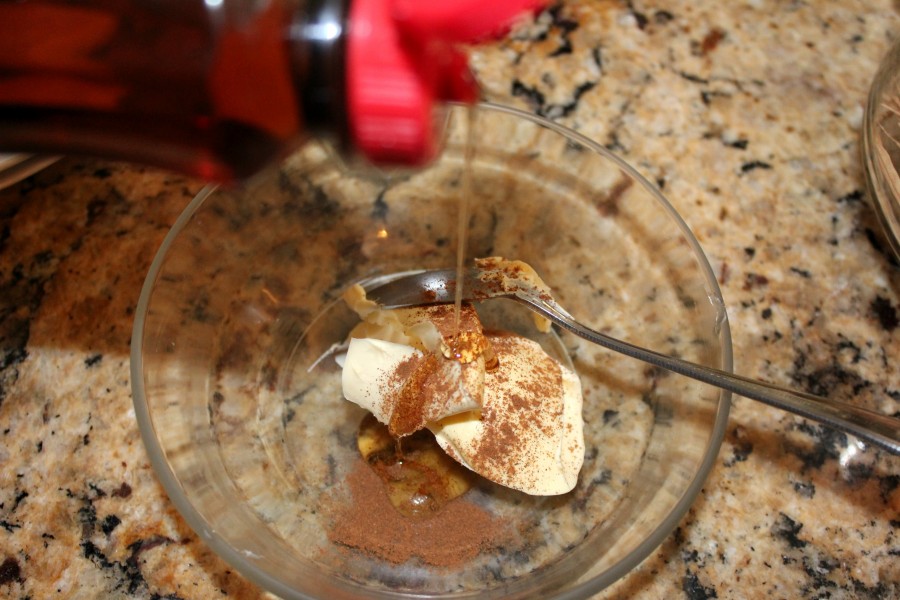 Slice it up and stack it up to be pancake-like and cute…
Butter it up…
And smear it on…
Add your fave pancake toppings…
Like Syrup…
And dig on in!  ~Enjoy!  🙂
 NOW FOR THE CONTEST!
Simply comment below and tell me your favorite dinner switch-up!  Anything from a picnic in the living room to dessert first~  I want to hear it all!  I will choose one of you to win this awesome Krusteaz variety pack by Friday, September 19, 2014 Midnight EST!  ~Good Luck!