Well//it's official, I fell into that weeknight "what's for dinner?" rotation rut.  You know..that rut where you've completely used up all your easy, yet somewhat tasty go-to meals, the meals that kept your parent card valid by keeping you out of the drive thru when all you wanted to do was ..um…drive thru?!  ..yeah..that rut!  🙂
This recipe found it's way into my head thanks to the generosity and sheer deliciousness of Moore's Marinade and Sauces!!  Their Buffalo Wing Sauce is the BEST wing sauce I've ever had..no joke!  The flavors are intense, yet not overwhelming like most of the wing sauces I've had.  As the chicken soaks up all the flavors, it just gets richer and deeper in color and flavor.  The sauce made this dish a WINNER!  Check them out and getchasome!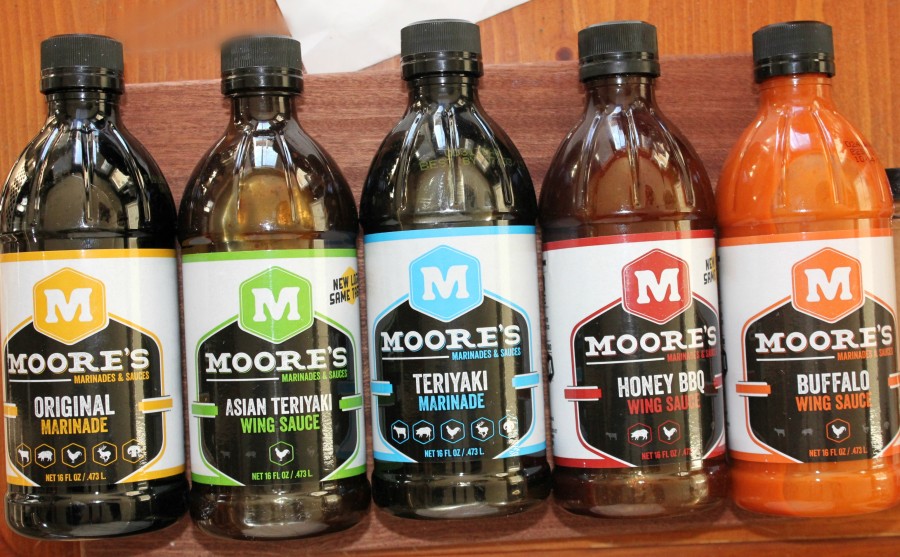 "Buffalo Wing Sauce"
Our best-selling sauce! Adds just the right amount of flavor and heat
Ready to use as sauce or dip, for wings and lots of other things!
Cayenne provides the flavor!
Medium heat level
Gluten Free, Kosher, No MSG
Makes your wings fly!
Available in 16 oz bottles
I can thank Moore's for pulling me out of that dinner rut..for this week and many weeks to come!  These Sloppy Joe's aren't your typical Joe..oh no!  These babies are PACKED with flavor and lean protein, making you a ROCKSTAR in your house..score!
These are everything we know and love about Buffalo Chicken Wings all piled high onto a tender and toasted butter & sauce glazed bakery rolls.   THEN they're topped with blue cheese crumbles and thinly sliced celery for that traditional cool crunch!  Make a batch of these and shake things up on your weeknight!
~You and your family will LOVE them!
What you'll need:
1 lb. ground chicken
Baker Rolls >> and 2 tbsp. butter..melted, plus 2 tbsp. of Buffalo Sauce for the Roll glaze!
1 cup of Buffalo Wing Sauce..I used Moore's Marinade and Sauces!
1 cup crumbled blue cheese
2 stalks of celery, thinly sliced
One small red bell pepper..chopped
One small onion..chopped
2 tbsp. olive oil
Directions:
In a medium pan, cook up the onions and bell pepper with the olive oil, until there tender…
Slice the Celery super thin…set it aside..
Add the ground chicken into the tender veggies and cook it until it's slightly brown and FULLY cooked.  Pour in that Buffalo Sauce…
Now..make some buttery sauce for those rolls.  this is totally optional, but really takes the roll to the next level!  Simply melt the butter and stir in 2 tbsp. of the buffalo sauce…
Brush the tops of the rolls with the butter and bake them on a sheet pan at 300 degrees for only 5 minutes or until they're slightly toasty.  Don't let them burn..lol!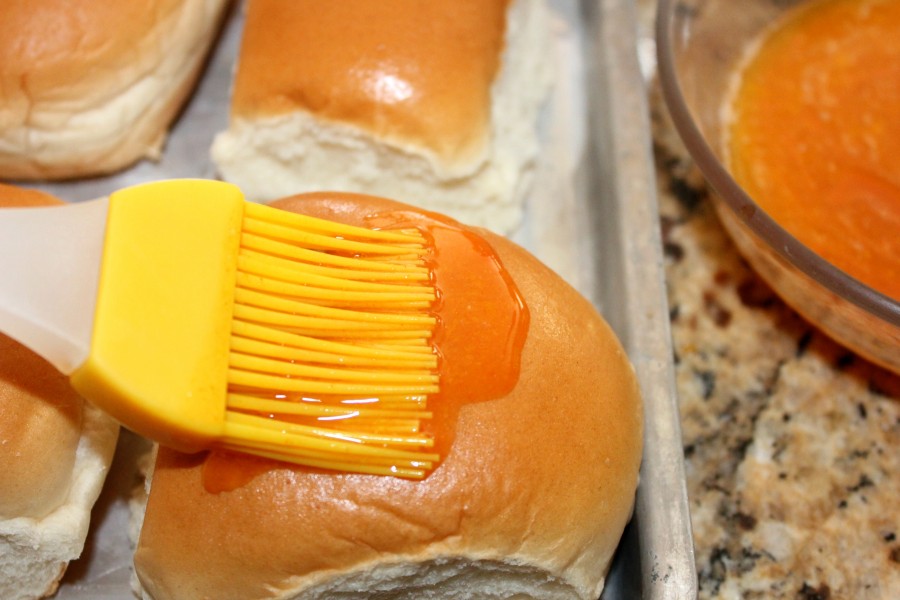 Now..fill them up~  top them with some blue cheese and cool celery… and get sloppy!  ~Enjoy! 🙂