Once again Smithfield has come through with a simple, top quality, and can I just say DELICIOUS way to enjoy a hearty, yet light and easy summertime meal.  I'm talking about their fully marinated and perfectly seasoned Applewood Smoked Bacon Pork Loin Filet.
From the moment you open the package, and release that gorgeous pork loin filet, …you're instantly intoxicated by the sweet & smoky goodness that awaits your plate.
"Smithfield takes our commitment to quality and flavor to the highest level with our Prime Premium All Natural Fresh Pork line. Not all pork is created equal and from Smithfield Prime's juicy tenderloins to naturally tender pork shoulders this product delivers. These hand-trimmed cuts are 20 percent more tender than non-enhanced leading brands which means you can be confident your family will taste the Smithfield Prime difference in every bite."
And that's just the start…
That's right, I took that beautiful pork, and I stuffed it with maple sausage, pork flavored stuffing and onions, and then…oh yeah…then, I wrapped the whole thing in bacon and roasted that baby up to tender perfection.  This recipe will work inside or outside on the grill for an even more summertime savory meal.
In under 30 minutes you can serve this beauty up to your family and friends with pride.  Fresh meat quality doesn't get any better than what Smithfield can offer.
What you'll need:
1-1.7lb. Smithfield Marinated Fresh Pork Loin Filet in Applewood Smoked Bacon flavor
1 lb. ground sausage .. maple flavored
1 lb. Applewood Bacon
1/2 box of Pork flavored stuffing mix.. (approx. 3 oz.)
1/2 cup onion..chopped
2 tbsp. fresh sage…chopped
1/2 cup maple syrup
1 tsp. thyme
dash of cayenne pepper..optional and to taste
Directions:
First, lay out the pork loin and carefully slice it to open it up (I'm not the best at this, and it worked out just fine) but, you want it as even as possible, approx. 1/8″ in thickness, set aside…
Now, lay out the bacon so each piece is slightly layering each other…
In a medium pan, cook up the sausage and the onion until fully cooked…
Cook up in the stuffing and approx. 1/2 cup of water, stirring to combine until it's thick and the liquid is absorbed…
Combine the sausage into the stuffing…
Place the pork filet onto the shingled bacon, and add the sausage/stuffing filling onto the long side of the pork filet, starting with a generous scoop evenly at the top of the filet…
Roll it up, making sure that the bacon is covering the entire filet…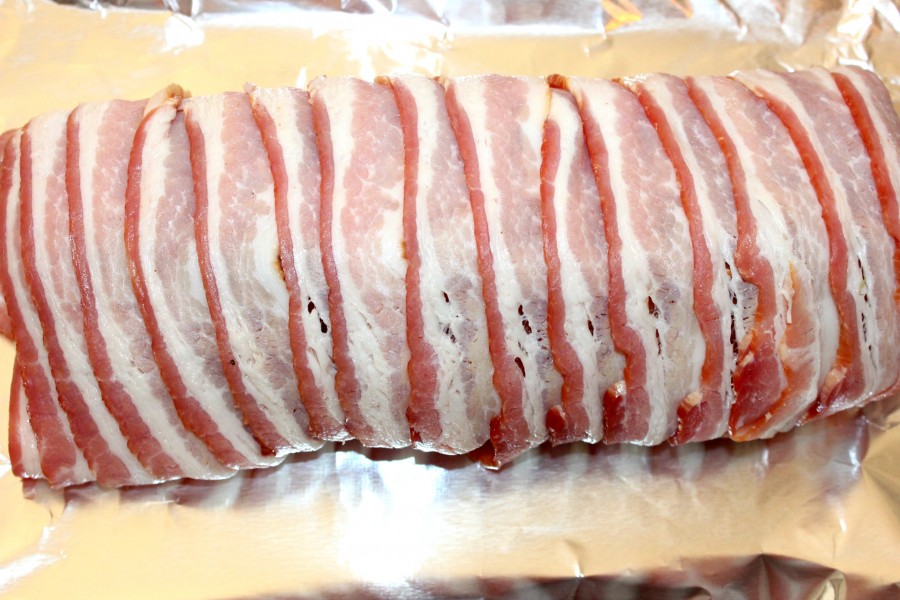 Place it onto a sheet pan and set aside as the oven heats up.
Pre-heat your oven to 350 degrees and make the sauce by mixing the maple syrup with the thyme and cayenne…
Generously brush the sauce onto the bacon wrapped pork, and baste throughout the cooking process…
Be sure to tent the meat with foil if the sugary sauce starts to burn before the meat is fully cooked.  However, keep in mind that some slightly "burt" sugar spots are AMAZING!
Bake it at 350 degrees for approx. 45 minutes to an hour, or until the internal temp reaches 145 – 160 degrees.
Let the meat rest for a few minutes before you cut into it.. It will smell incredible~patience. is. SO hard.  🙂
NOW you can slice it up into your desired thickness…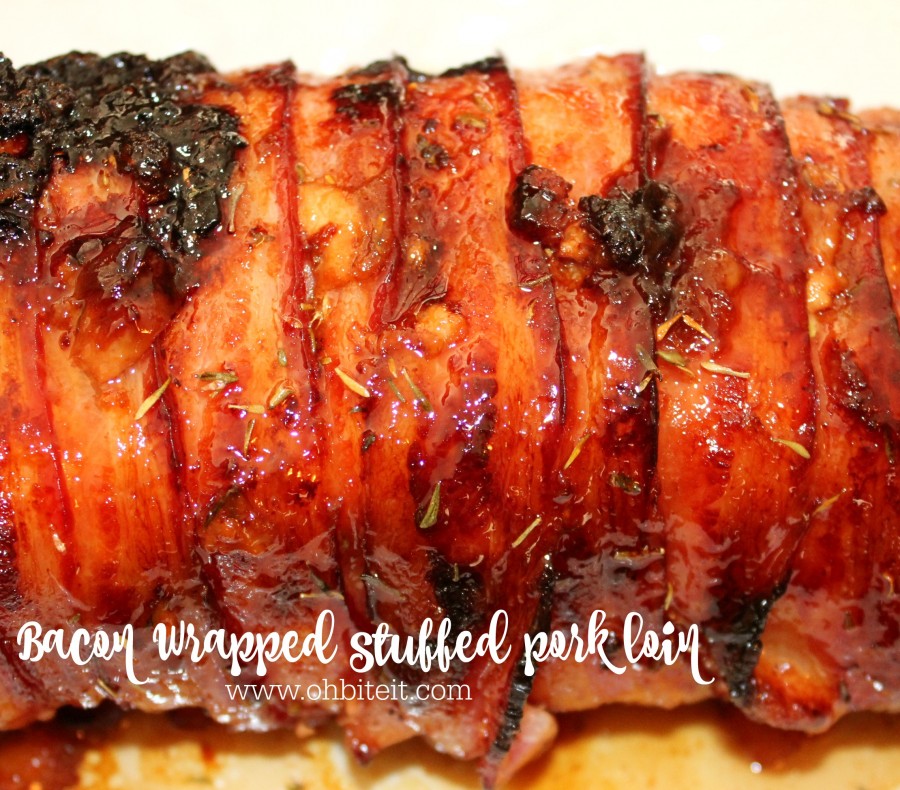 Grab a plate for you darn it…
And dig IN!  ~Enjoy!
PS~  IF, and I mean IF you have any of this incredible pork loin left over… check out this amazing "Stuffed Pork Loin Breakfast Sandwich" recipe to repurpose and re-use every last bite.
Also be sure to check out Smithfield on social and share the meaty love!
This is a post sponsored by Smithfield Foods, however all opinions and content are my own.