Let's enjoy this Top Chef inspired Smoked Salmon Dip recipe a.k.a "The World's BEST Dip EVER" and then pull up a seat and join me in reliving the best moments to date from the show, Oh…and my prediction of a winner!  But first..the DIP~~The Dip of ALL dips!
I was inspired to create "Salmon and Sourdough" after watching the Chef'testants battle it out.  Something about good old fashioned competition makes me hungry..haha!
And not only was I totally entertained, and starving, but  that episode also inspired this dip idea that I will literally make and enjoy for the rest of my God-fearing life.  It's the BEST Salmon Dip/Spread EVER!
In only a matter of minutes you can serve up this impressive and delicious Salmon Dip.  The hint of Old Bay Seasoning really makes this spectacular!  So many 'scoopables' and/or 'spreadables' will work..Chips, Pretzels, Bagel Chips, Crackers….a spoon!  😉
 What you'll need: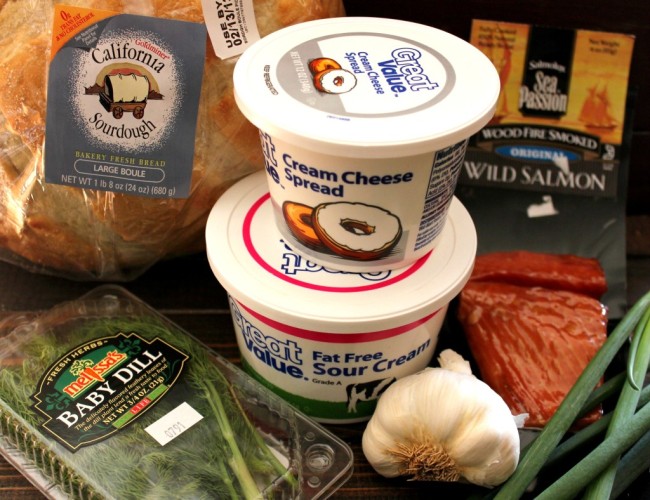 One Sourdough Round
12 oz. Smoked Salmon..roughly chopped
8 oz. Cream Cheese
1 cup Sour Cream
2 cloves of Garlic..finely chopped (optional)
2 tbsp. Fresh chopped Dill
2 tsp. Old Bay Seasoning
1 tsp. Lemon Juice
S&P to taste
1/4 cup chopped Green Onions
Your fave dippables..chips, veggies etc.
Directions:
Slice the "top" off of the Sourdough and hollow out a shallow center in the "bowl".
Drizzle the bowl edges with some Olive Oil, S&P and grill it, cut side down on a griddle or pan until it's slightly charred…(this step is optional, but so pretty and tasty too)
In a medium bowl mix together all of the ingredients, until well combined.
Fill the Bread Bowl with the Dip..
Serve nice and cold….
Grab a Dipper and Dip, or spread it onto a light Sandwich for an incredible change-up!
~Enjoy my TOP CHEF inspired version of "Salmon and Sourdough" 🙂
 Now for the recap~
Whew..This season brought everything from "F" Bombs to 'Wolfgang Cluck's'… to laughs, tears, undeniable Chef'testant chemistry (I'm not saying who) and everything in between!  Anything & everything that you could ever ask for in a fun and riveting TV show, was deliciously delivered in one hour, and never disappointed!
The journey begins:
Fresh faced and ready-to-go, all of the experienced and talented Chef'testants lined up to compete for the coveted title of TOP CHEF!  The battle that would ultimately end up becoming so intense, so all-consuming, and down right cut-throat, is now merely an unforeseen glimmer in everyone's hopeful eyes!  Ahhh..they have NO idea what they're in for!
The joys and frustrations of sharing a house together definitely started to take its toll as the driving competitive forces within all of them made the walls slowly close in.
Things get heated:
As each episode becomes a memory, so does each ousted Chef'testant.  Every time we said good-bye, we also said hello, to even more intense and tasty drama as it comes down to the $125,000 wire!
It was easy to love, hate and judge each of the Chef'testants from the comfort of my own couch, but they all deserve tons of credit for allowing the world a front row seat into their fragile vulnerability!  Those personality dynamics (good & bad) is what brought the show & the food to life, and totally hooked me in from day one!
Not only did this show inspire me to totally think outside 'the food box', it also made me excited to create unique and delicious dishes of my own!  Here's a look back at some of the recipes I created that were inspired from my love of TOP CHEF!
My very first 'taste' of Top Chef inspired me to make "Mexican Dumplings"!     Every week brought more inspiration and drove me to create more & more recipes!
Check them out: "Sweet Heat Molasses Meatballs", "Cereal Crusted French Toast on-a-stick", "Berry Salsa with Chips Baked In Foil", "Popcorn  Oysters", "Potato Chip Au Gratin", "Ginger Ale Blondies", "Coconut Fried Shrimp" …and today"s ~"Smoked Salmon Dip in Sourdough"~  Only the BEST Salmon Dip I've EVER had..seriously!
So, no matter who you ended up loving or hating, what a ride it has been.  Sadly, there can only be ONE winner and I think that will be….BROOKE, just a hunch..but we will see!  Who do you think will win?
Watch TOP CHEF with me tonight at 10/9c. on BRAVO.  Then be sure to tune in and watch the Finale Wednesday, February 27th at 10/9c,  and see if our predictions are right!
I'm required to disclose a relationship between our site and Bravo. This could include the Bravo providing us w/content, product, access or other forms of payment.